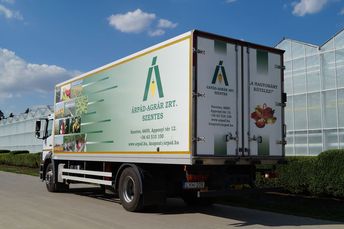 Árpád-Agrár Ltd. has a long history which has not only became well-known in our country but in other european countries as well in the past 50 years.
Our name might not be familiar for some people, but they certainly have consumed our products before such as pepper, tomato, paprika, cucumber or the original homemade Hungarian bread or milk.
Miklós Csikai, the president and CEO of Árpád-Agrár Ltd. always says: 'the only way which can brings us forward, is the development of our economy by benefiting from the favorable geographical features of our country'.

The Árpád group is one of the largest vegetable forcing firms in Hungary.

In the beginning, field and greenhouse cultivation were the main activities, and from tha late '60s, people started to construct greenhouses and to conservate  the thermal water. (Which were boosted by the appearance of thermal water close by.)
Currently, besides Árpád-Agrár Ltd., also Árpád Masterplant Ltd. and Szentesi Pardicsom Ltd. are both became parts of the horticultural sector. The new developments reflect well that the leaders of Árpád-Agrár Ltd. could catch up with their ancestors. They encouraged their gardeners and specialists to cooperate and work together and that produced a preceptible improvement.
The sales of the vegetables are based on the agriculturual activities of Szentes DélKerTÉSZ which was founded by Árpád-Agrár Ltd., its biggest supplier.
The number of cultivated lands in total is 4,751 hectares where wheat, corn, barley, sunflower, soybean, alfalfa, and sorghum are harvested.

The value of the land, that gives us bread, is really honored here. The local farmers and gardeners take pleasure in sowing, reaping and they truly value the vital products provided by their farms.
One of the most important motto of the group is that 'a good quality product starts with good raw material management'.
Because fresh and healthy food and clean water are essential things for the survival of mankind.
Árpád-Agrár Ltd. takes the responsibility to produce vegetables in a long run and besides making quality products it is committed to increase the number of workers and to contribute the social and economic developments.